Biography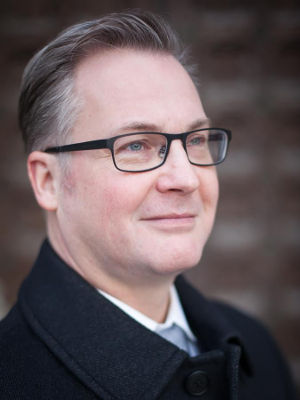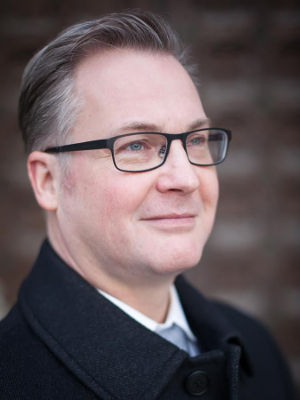 My music is my own and I have never tried to be original. That has always been my motto and I have only tried to use music to express all the feelings life consists of. This has led people to describe my music as both "so sad that it sounds like birds who have lost their wings" and "the happiest classical music we ever heard". I have also always preferred beautiful music to atonal music and that is surely the reason why the most part of my music is more on the sad side – but what a dream it would be to be able to create beautiful music that's bubbling over with joy! My compositions consist of almost only sacral music. This is to express my own faith but also my appreciation and respect for the timeless texts that have been used for centuries after centuries.
In 1994 I was lucky enough to start conducting the female choir Carmen and I conducted them until we decided to disunite 2010. This is of course the biggest reason why most of my earlier compositions are for female choirs – the knowledge that what I write during the night will be tested the next evening is a driving force that not so many are lucky enough to have. Another great driving force started 2014 when Bärenreiter Verlag, Kassel, Germany began publishing my sacred choral works. It is truly encouraging to know that my music now gets publicity throughout the world.
https://www.baerenreiter.com/en/focus/maarten-jansson-sacred-choral-works/
https://www.baerenreiter.com/fileadmin/Service_Allgemein/Werbemittel/englisch/SPA050_64_Flyer_Jansson_engl_2017_web.pdf
I work as a voice, music theory and conducting teacher and conductor in Uppsala were I was born -1965 and still live with my wife and five children.
---
Short Curriculum Vitae
Empolyment:
Music theory, voice, conducting and choir teacher at GUC, Uppsala since 2014
Choir, music theory and voice teacher at Kulturskolan (Musikskolan), Uppsala since 1999
Music theory, voice, conducting and choir teacher at Bolandgymnasiet, Uppsala 1995-2014
Education:
Master of Fine Arts in Music Education (MFA), Royal College of Music in Stockholm 1996 Specializing in Dalcroze eurhythmics and voice
Musicology A-D (two years, no formal degree) Uppsala University 1986
Miscellaneous:

Swedish representative as composer in Rikskonserters musical exchange with Latvia 1999
Elected member of FST – Society of Swedish Composers 2012
Member of the international jury at the contest for vocal ensembles at the 25th Latvian song festival 2013
Member of the international jury at the contest for vocal ensembles at the 26th Latvian song festival 2018Atelier holder for girls choirs at the 12th International Youth Chamber Choir Meeting, Usedom, Germany 2018
Symposiums where my music has been presented:
Choir Olympics 2004, Bremen, Germany
Kyrkomusiksymposiet 2010 (Symposium for Church music) Workshop "Music for Women's Choir" Uppsala, Sweden
Choir.com 2011, Workshop "Literatur für gleichstimmigen Kinder- und Jugendchor" Dortmund, Germany
Choir.com 2013, Workshop: "Der schwedische Komponist Mårten Jansson", Dortmund, Germany
Tokyo Cantat 2015, Tokyo, Japan
Choir.com 2015 Bärenreiter Verlag hosts the workshop: "Schwedische chormusic von Mårten Jansson", Dortmund, Germany
Commissions:
Two Mass Parts on the Choral "Allein Gott in Der Höh Sei Ehr" organ (1995) – Birgitta Markström – premiered at the inauguration of the new organ in Knivsta kyrka, Knivsta, Sweden
De Profundis SSMAA (2004) – Les Jolies – premiered at the first International Choir Competition in Helsingborg, Sweden
Fear Thou Not SSMAA (2008) – Les Jolies – premiered at Lund International Choral Festival, Lund, Sweden
Fröjda dig, Jerusalem SATB and chamber orchestra (2011) premiered in Tierps kyrka, Tierp, Sweden
A Part of My Heritage organ (2012) – James D Hicks, USA – the premiere was broadcasted on the Swedish Radio "P2 Live" from Härnösands kyrka, Härnösand, Sweden
Maria (IV) SATB div (2012) – Slottskyrkans vokalensemble – the premiere was broadcasted by the Swedish television SVT from Slottskyrkan (The Royal Castle Church), Stockholm, Sweden
Cantiones de nativitate Domini et Salvatoris nostri Jesu Christi SCCTBB (2013) – Stockholms gosskör – premiered in Gustav Vasa kyrka, Stockholm, Sweden
Es ist ein Ros entsprungen SSAATTBB (2013) – Johann-Sebastian-Bach Ensemble Weimar – premiered in the Herderkirche, Weimar, Germany
I Never Saw a Moor SSMMAA (2013) – Cant'Ella, – premiered in Mönchengladbach, Germany
Erlkönig TTBB div (2014) – Camerata Musica Limburg – premiered in Staatstheater Darmstadt, Kleines Haus, Darmstadt, Germany
innanför överallt mass for three choirs, two organs and congregation (2014)- Uppsala Cathedral Music – premiered in Uppsala Cathedral, Uppsala, Sweden
Missa Popularis mass for SSA and string quartet (2015) – Skowronki, Poznan – premiered in the Franciscan church, Poznan, Poland
In the Light of God SMezATB (2015) commissioned by Bärenreiter Verlag, Tyskland – premiered by Capella Vocale during Chor.com in Dortmund, Germany
Vallåt och vals SSA, nyckelharpa and kokle (2016) – PUTNI – premiered in St. John's Church, Piņķi, Latvia
De sancto Pelagio et sancto Theodolo SATB div and large symphony orchestra (2016) – Knabenkantorei Basel – premiered in Basler Münster cathedral, Basel, Switzerland
Ingenting utanför SSMezAA (2016) – La Cappella – premiered at the inauguration concert of DAMKÖR 2016 in Uppsala Cathedral, Uppsala, Sweden
Ein feste Burg ist unser Gott organ (2016) – James D. Hicks – premiered in Lund Cathedral, Lund, Sweden
Commissions under production:
Salve Regina women's choir (2017) – Vocalia Taldea – Spain
Piece for SATBSATB (2017) – The Saint Louis Chamber Chorus – premiere in St Louis, USA
Ein feste Burg ist unser Gott SATB and organ (2017) – St Nicolai Motettkör – premier in St Nicolai Church, Örebro, Sweden
Published pieces:
Bakmes SSSSAAAA (2001) Warner Chappell Scandinavia
Ave Maria SSAA (2001) Warner Chappell Scandinavia
Det är en Ros utsprungen SSSAAA (2001) Warner Chappell Scandinavia
Fem visor till Luciatåget SMA (2001) Warner Chappell Scandinavia
Trestämt SSA (book of arrangments, co-writer Eva Eriksson-Berglund) (2010) Notfabriken
Trestämt 2 SSA (book of arrangments, co-writer Eva Eriksson-Berglund) (2012) Notfabriken
Ora pro nobis SSMAA (2012) Gehrmans
Herren är min herde SSAA (2012) Gehrmans
Fear Thou Not SSMAA (2014) Bärenreiter Verlag
Maria (IV) SATB div (2014) Bärenreiter Verlag
The Choirmaster's Burial SSATBB opt div (2014) Bärenreiter Verlag
Cantate Domino SSAATTBB (2015) Bärenreiter Verlag
Cantate Domino TTBB (2015) Bärenreiter Verlag
I Never Saw a Moor SSMMAA (2015) Bärenreiter Verlag
Trestämt SAB (book of arrangments, co-writer Eva Eriksson-Berglund) (2015) Notfabriken
Es ist ein Ros entsprungen (arr) SSAATTBB (2015) Bärenreiter Verlag
God Rest Ye Merry Gentlemen (arr) SATB div Bärenreiter Verlag
In the Light of God SMATB (suite in four movements) (2015) Bärenreiter Verlag
Missa Popularis SSA(TB) and string quartet (string orchestra) (2016) Bärenreiter Verlag
Missa Brevis in E-flat minor SATB (2016) Bärenreiter Verlag
Nothing Beyond SSMAA (2016) Bärenreiter Verlag
Two Poems SATB (2017) Bärenreiter Verlag
De sancto Pelagio et sancto Theodolo SATB and organ (2017) Bärenreiter Verlag
Discography:
Putni (1997) – Putni, Riga, Latvia
Ora Pro Nobis, Ave Maria
Sång (1998) – Carmen, Uppsala, Sweden
Bakmes, Cantus Natalisii, Det är en Ros utsprungen arr: M. Jansson,
Stilla Natt arr: T. Ljung/M. Jansson,
Brother Moses Gospel Train arr: M. Jansson
Astonas dienas nedela (1999) Putni, Riga, Latvia
Ben E. King / I. Leiber & M. Stoller: "Stand By Me" arr: M. Jansson
S. Wonder: "You Are The Sunshine Of My Life" arr: M. Jansson
H. Forde: "Ir You're Happy"arr: M. Jansson
I juletid (2002) – La Cappella, Uppsala, Sweden
Franz Gruber "Stilla Natt" vocal arr: K-F. Jehrlander string arr: M. Jansson
Missa De Profundis (2006) – Carmen, Stockholm, Sweden
Missa De Profundis
Nature's first green is gold (2006) – Embla, Trondheim, Norway
Ave Maria
Triumf (2007) – Akademiska damkören Lyran, Helsingfors, Finland
Herren är min herde
Salve Regina (2007) – Hjo kyrkas ungdomskör, Hjo, Sweden
Trina Celi Hierachia, Es ist ein Ros entsprungen arr
Ekumeniske Ziemassvetki (2007) – Putni, Riga, Latvia
Es ist ein Ros entsprungen arr: M. Jansson
Tillägnad (2010) – Les Jolies, Trollhättan, Sweden
De Profundis, Bakmes
Wie schön leuchtet der Morgenstern (2012) – Cant'Ella, Mönchengladbach, Germany
Ave Maria, Ave Maria, Magnificat, Det är en Ros utsprungen arr: M. Jansson,
God Rest Ye Merry Gentlemen arr: M. Jansson
Fairy Day (2013) – Adolf Fredriks Flickkör, Stockholm, Sweden
Ora Pro Nobis
Jul med Exaudio (2013) – Exaudio, Svenskfinland, Finland
Det är en Ros utsprungen arr: M. Jansson
Resting places in the sun (2013) – Carolinae damkör, Lund, Sweden
Bakmes
Nordic Journey Volume III Swedish Folkways and Classic Traditions (2014) –
James D. Hicks, Fredricksburg, USA
A Part of My Heritage, Two Mass Parts
Jubilate (2015 on the extended Spotify version) – Stockholms Gosskör, Stockholm, Sweden
Cantiones De Nativitate
Light of Gold (2015) – Cappella SF, San Francisco, USA
Lo, How A Rose E'er Blooming arr: M. Jansson
Aufbruch (2015) – Molto Cantabile, Luzern, Switzerland
Maria (IV)
Frid på jord (2015) – Carolinae damkör, Lund, Sweden
St Staffans visa
ACDA Central Division Conference 2016 Western Michigan University
Cantus Femina & University Chorale (2016) – Cantus Femina, Michigan, USA
Fear Thou Not
Dyrygent I Jej Chór (2016) Skowronki, Poznan, Poland
Bakmes
Contemporary (2016) – Canta Volare, Maastricht, Netherlands
I Never Saw A Moor
LaCappella 2.0 (2016) – LaCappella, Burgholzhausen, Germany
Fear Thou Not
Chantage and the choral music of Mårten Jansson (2017) – Chantage, London, England
Missa Popularis, The Choirmaster's Burial, Maria (IV), Cantate Domino
Far (number 2 from the I Guds ljus suite), Triptyk, Mörkblå tillit